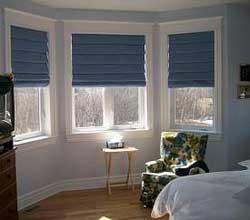 When it comes to window coverings, trends tend to remain pretty much the same from year to year. A particular color might become trendy one year, while another the following, but shades and blinds remain the same. Recently however, some exciting new ideas have come to the forefront and they are ones you should definitely consider if you are looking for something brand new for your home. We have some of the best options below for your to try!
High Tech: High tech window shades are becoming very popular. These are motorized, offering ease of use and a modern touch to your home. They can add lots of value to your home, which can be a good idea if you are planning on selling it in the future. These come in different versions, so you can always find the one that best fits your home.
Natural Materials: Natural materials are also becoming very popular. They offer a light, eco-friendly look that many people love. Bamboo shades are a good option, as are matchstick blinds, so if you want something unique that is also environmentally conscious, try these kind of shades.
Shades of Blue: When it comes to window coverings, another trend is making itself known. More and more people are choosing shades of blue when they choose blinds or curtains. There are lots of color variations, so you will be able to find just the right shade to get the look you want for your home.
Luxurious Fabrics: Why not try curtains in silk, damask, or even velvet? For rooms that are stately and that need a bit of added texture, these fabrics can provide the perfect addition. It can be an especially striking option if the rest of the room is done in minimalist tones with the curtains as the focal point.
Lines: Checkered blinds or striped designs can be a great way to add some texture and geometry to your home. These blinds can really become the center of your home when you have geometric designs to complement the rest of the decor.
Anti-Allergenic: If you like curtains but suffer from allergies and are worried about dust and dirt, there are new fabric options perfect for your home. These are anti-bacterial and anti-fungal fabrics that are very easy to clean. With these curtains, you will not have to worry about layers of dust or other issues that could affect your health.
If you want window treatments that are new but that have the potential to become very popular, these are the options to consider. Whether you want shades done in natural materials or if you prefer luxurious fabrics, you will be able to get the right look. A company like East Greenbush Window Coverings can help you select the best options for your budget and they can even provide custom window coverings for any size or style of window. Take the time to read up on all of the latest options to find the perfect look for your home.